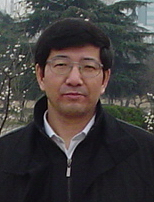 孙宝林
教授,博士生导师
研究兴趣:1)细菌致病性调控机制;2)细菌耐药转移机制;3)细菌与宿主相互作用的分子机制。
电话:0551-63606748
Email:sunb@ustc.edu.cn
实验室主页:http://sunlab.ustc.edu.cn
 中国科学技术大学生命科学学院微生物及免疫研究部主任,生物安全实验室主任。
主要代表性论文:(*通讯作者)
1. Hu J, Zhang X, Liu X, Chen C, Sun B*. Mechanism of Reduced Vancomycin Susceptibility Conferred by walK Mutation in Community-Acquired Methicillin-Resistant Staphylococcus aureus Strain MW2. Antimicrob Agents Chemother. 2014;Epub ahead of print.
2.You Y, Xue T, Cao L, Zhao L, Sun H, Sun B*. Staphylococcus aureus glucose-induced biofilm accessory proteins, GbaAB, influence biofilm formation in a PIA-dependent manner. Int J Med Microbiol . 2014;30 4(5-6) :603-612.
3.Xue T, Zhang X, Sun H, Sun B*. ArtR, a novel sRNA of Staphylococcus aureus, regulates α-toxin expression by targeting the 5' UTR of sarT mRNA. Med Microbiol Immunol. 2014;203(1):1-12.
4. Hong Y, Zhou X, Fang H, Yu D, Li C*, Sun B*. Cyclic di-GMP mediates Mycobacterium tuberculosis dormancy and pathogenecity. Tuberculosis. 2013;93(6):625-34.
5. Bao Y, Li Y, Jiang Q, Xue T, Hu B*, Sun B*. Methylthioadenosine/S-adenosylhomocysteine nucleosidase (Pfs) of Staphylococcus aureus is essential for the virulence independent of LuxS/AI-2 system. Int J Med Microbiol. 2013;303(4):190-200.
6. Xue T*, Zhao L, Sun B. LuxS/AI-2 system is involved in antibiotic susceptibility and autolysis in Staphylococcus aureus NCTC8325. Int J Antimicrob Agents. 2014;41(1):85-9.
7. Xue T* You Y, Hong D, Sun H, Sun B* The Staphylococcus aureus KdpDE two-component system couples extracellular K+ sensing and Agr signaling to infection programming. Infect Immun. 2011;79(6):2154-67.
8. Zhao L, Xue T, Shang F, Sun H, Sun B*. Staphylococcus aureus AI-2 quorum sensing associates with the KdpDE two-component system to regulate capsular polysaccharide synthesis and virulence. Infect Immun. 2010;78(8):3506-15.
9. Tao L, Wu X, Sun B* Alternative sigma factor σH modulates prophage integration and excision in Staphylococcus aureus. PLoS Pathog. 2010;6(5):e1000888.
10. Shang F, Xue T, Sun H, Xing L, Zhang S, Yang Z, Zhang L, Sun B* The Staphylococcus aureus GGDEF domain-containing protein, GdpS, influences protein A gene expression in a cyclic diguanylic acid-independent manner. Infect Immun. 2009;77(7):2849-56.